Swiss cheese – no problem SMARTHolechart
Intelligent hole and UDF detection.
Intuitive dialog for defining the hole types.
Presenting the results in configurable tables on the drawing.
Type-based coloring of holes.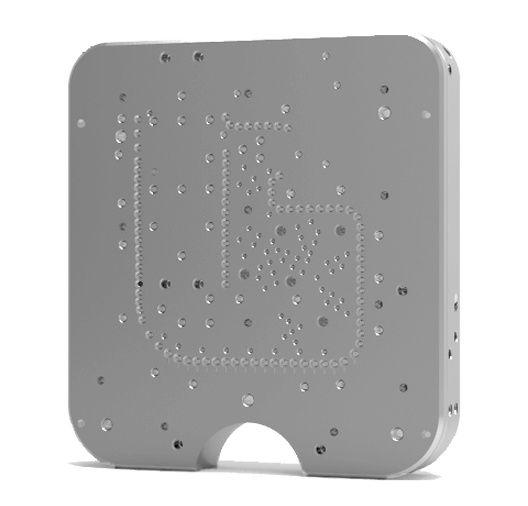 Benefits for your company
With SMARTHolechart you can generate hole information in no time at all.
The software can be integrated directly into your production process.This saves your company time and reduces errors.
SMARTHolechart is already integrated in Progressive Die Extension and Expert Moldbase Extension to make your workflow easier.
Uniform

All users have access to the same configuration. This ensures a uniform output of hole information.


Clear

The hole information can be grouped and sorted by type and size. This makes it easy to find all hole information quickly and easily.

Flexible

There are over 100 settings available to customize SMARTHolechart to your needs.

Variable

Changes can be handled with agility at any time.
Exporting bore and UDF information
The output is usually generated in tables on the drawing. It is also possible to export the information to text files. A unique number is used to assign the holes from the table to the holes in the model.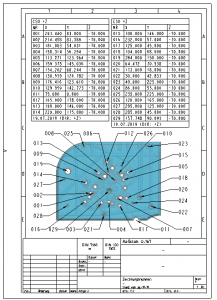 Customizing Notes
With the help of some useful functions, the arrangement of the notes can be revised. The notes can either be arranged around a view or placed along a line.
Align notes to line

Orient notes around view

Preparing parts

Prepare your parts before detection and exclude geometry that is not relevant for hole detection. Later this will save time when creating the tables.
Detecting holes from different parts or bodies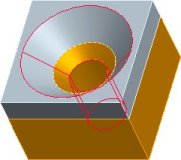 For SMARTHolechart, it does not matter where the hole geometry comes from.
Even holes across multiple models or holes from different bodies are no problem – the software combines all elements into a single hole.
Configuring the application


More than 100 settings are available to customize SMARTHolechart according to your needs. Besides the settings, you can freely configure your hole types and also adjust the format of the tables. Substitute designations can be given for special thread diameters – according to your requirements.
Settings
Customize SMARTHolechart with over 100 settings to perfectly suit your needs. For example, you can create a table for each hole type or write all holes into a single table.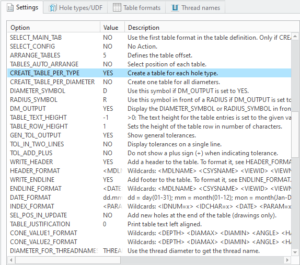 Hole types
Define your bore types from the elements cylinder, taper, thread and torus. Specify which values should be output and whether the hole should be colored after detection.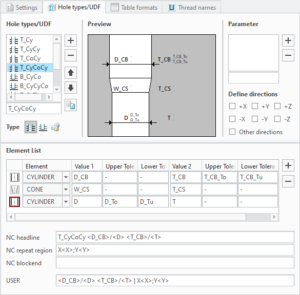 Table formats
The columns for the table can be freely configured. The content of the cell can be defined using a special and easy to understand syntax. You can output position, dimensions and parameters of the hole in the table.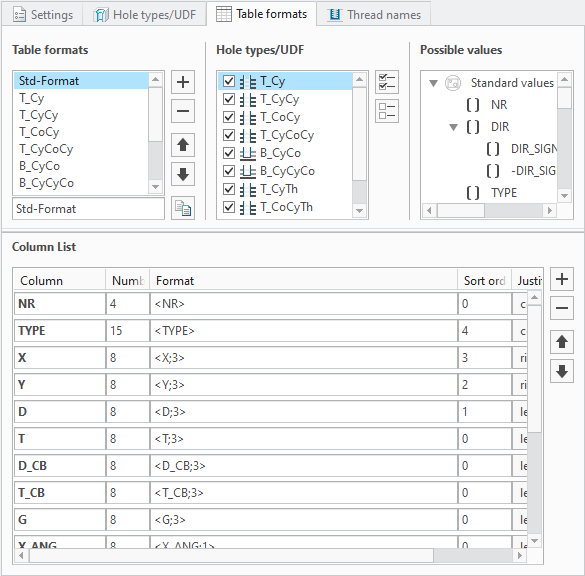 Thread names
Sometimes it is necessary to output a text instead of a diameter.
SMARTHolechart also has a solution for this.
Simply enter the diameter and the text in the table provided and the diameter will be replaced by the desired text later on.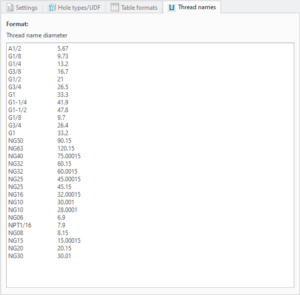 Technical details
Find out about the supported Creo® versions
in our product calendar.
More information?
Request Demo Version
Have we aroused your interest?
Then you are welcome to request a demo version from us here.
Even more effective in combination