Power for Your Die Design Progressive Die Extension
Automated tooling setup fully integrated in Creo Parametric
2D strip layout creates 3d solid model
Extensible supplier component library with intelligent components
Bill of material management
SMARTHolechart functionality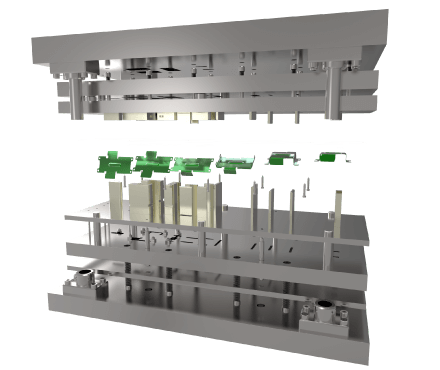 Benefits for your company
Progressive Die Extension is the integrated solution in Creo Parametric for designing stamping tools.
It includes a variety of supplier components for piercing, forming, guiding and auxiliary equipment. Furthermore, customized components can be defined by flexible configuration rules.
Strip and tooling design tasks are supported by intuitive and performance optimized interfaces. For example, you can create a strip assembly in the 2D dialog and display manufacturing-relevant information quickly. In addition, you can add your company-specific cutting accessories with intelligent configuration rules using the powerful library functionality.
The automatic drawing creation, bill of materials and SMARTHolechart functionality simplify the provision of manufacturing documents.
Simple

PDX offers you tools to dimension and place even complex components with the intuitive plate and strip wizards.


Flexible

Article changes of an existing tool are adapted from the strip construction to the production documents quickly.

Robust

Avoid contradictions in your design by automatically finding placement references and improve model quality through intelligent cutting components and consistent rules.


Fast

Automate placing of in-house stamping equipment by integrated design rules and limit manual modeling tasks to a minimum.

Videos
Here you will find a selection of current videos that will
bring PDX closer to you.
Define 2D Strip
Based on design articles the strip wizard supports planning of the strip by dragging and dropping articles to their indicated position. Naming conventions, numbers and size of the stations can be adjusted flexibly. Take control about material usage and costs per station or optimize station dimensions.
Manufacturing operation locations as well as module sizes are to be planned for tool design tasks.
Stamping geometry for contoured cut stamps is defined by stamp reference parts.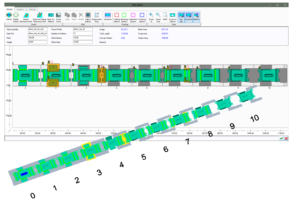 Configure Tooling Setup
The plate wizard allows to define the tooling setup. Plates can easily be placed, moved and manipulated in the different views. Based on the modules of the strip the definition of a segmented tool is supported. Placing the strip assembly to each module allows collaborative design work.
Furthermore, reference patterns to locate stamping equipment can be defined and visualized in the plate wizard.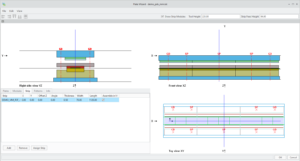 Use Supplier Library
PDX comes with a library of supplier components for piercing, forming and guiding and auxiliary equipment. This library does not only contain the Creo Parametric models, but also the rules about configuration, placement, dimension and cutouts. It can easily be extended for customer specific inhouse components.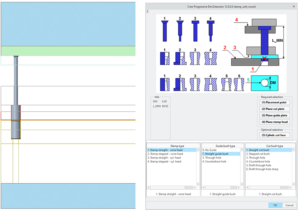 Manage Bill Of Material
Prepare your bill of material information by a user friendly interface.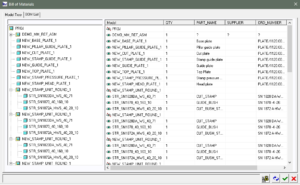 Utilize SMARTHolechart
The SMARTHolechart functionality recognizes holes by geometry or by user defined information. Based on the configured hole types and tables, this information is placed on the drawing.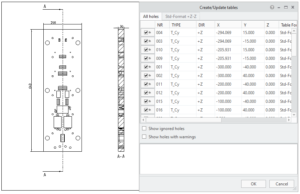 Request Demo Version
Have we aroused your interest?
Then you are welcome to request a demo version from us here.
Technical details
Find out about the supported Creo® versions
in our product calendar.
Even more effective in combination