Clean and Tidy CAD-Data SMARTUpdate
Check and update Creo® models and drawings automatically
A variety of prepared screening criteria
Batch-mode for large amounts of data
'gate keeping' to Windchill database
Management analysis for CAD data quality
Integrated in Creo Parametric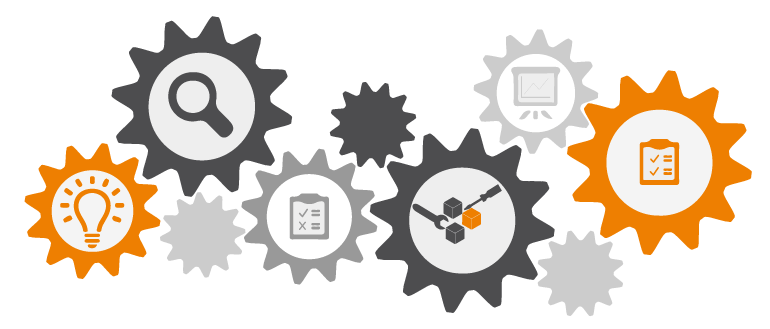 Benefits for your company
This Creo Parametric Add-on is designed to check your assemblies, parts and drawings by a set of pre-defined rules. Based on the check results SMARTUpdate repairs and updates your data reliably and automatically.
Possible use cases:
Update of CAD legacy data
If your internal processes change or Creo Parametric offers new functions, your existing CAD-Data will get outdated frequently. SMARTUpdate brings the data up-to-date to meet your current company standards.
Preparation of Model-Based-Definition
Prepare your existing models for future design without drawings by automatically adding 'combined states' and missing associated content to these models.
Integration of external CAD data
Integrate CAD models from external sources seamlessly into your design. Metadata, references, start features and much more can be customized to your needs and updated with a single click.
Powerful

Increase the CAD data quality of your Creo® models by verifying them with design guidelines.

Productive

Use the batch mode to update a large number of Creo models automatically.

Reliable

Protect your Windchill® Commonspace from qualitatively unsuitable models with the integrated 'Gate-Keeping' mechanism.

Manifold

Choose from a large and constantly growing number of evaluation criteria in part, assembly and drawing mode and create your individual configuration.
Videos
Here you will find a selection of current videos that will
bring SMARTUpdate closer to you.
Use intuitive Workflow
SMARTUpdate runs in part, assembly and drawing mode and brings its own ribbon with all necessary commands. It is designed to allow users to run pre-defined rules automatically or interactively.
Set up rules and configuration
Define rules and characteristics within the administration dialog.
Prepare template parts to reference to.
Check model or drawing and apply rules
Perform a rule-based check run to identify ambiguities.
'Update' detected inconsistencies automatically. You may perform this task interactively or within a batch process.
Apply selective rules manually to fine-tune your model or drawing.

Review report and results
Review the check and update report to detect errors and successes.
Use statistics and quality indication to visualize quality.
Update data automatically
You can perform the 'Update' process interactively as a single run, as selective actions or by setting up a batch processing queue. The software will adjust the inconsistent items according to the pre-defined rules.
Full automatic rule application
Start the 'update' process according to the rules directly from the ribbon.
All relevant rules are applied automatically without any user interaction.
Selective rule application
Perform a 'Check' run first and start actions from the results dialog.
'Update' inconsistencies selectively.
'Apply' additional quality criteria based on your personal assessment.
Batch processing
Update an unlimited number of models and drawings.
Run 'Updates' on local or network folders and on Windchill Workspaces.
Fine-tune your object collection by practical filters.
Apply smart rules
The huge diversity of models requires a sophisticated way to categorize the models before applying the quality rules. SMARTUpdate has unique capabilities to satisfy very specific and individual situations. You can skip checks based on categories or even condition the update based on the result of a previous check.
Distinguishing objects by categories
By defining model categories, you can apply different rule sets to models and drawings distinguished by their classification parameter.
Using conditions
Use an existing check result as a condition for any other rule or group of rules.
Create cascades of conditioned rules which allow to update your models considering any possible situation.
Recursive rule processing
Run 'Update' processes through all parts and subassemblies from your top assembly.
Run the 'Update' process from your drawing and include all drawing models.
Skipping rules
Avoid changes on i.e. library parts by setting up a 'skip' condition.
Exclude skeletons, library parts and other supporting part from the list of models by skipping complete categories.
Clean up 3D model
There are many reasons and use cases to start cleaning up your 3D models. That can range from harmonizing models coming in from external sources to simply updating existing models to the latest templates. SMARTUpdate automates this time consuming and repetitive task in an unique way.
Feature actions
Create, rename, reorder or remove features using UDF technology.
Update models with legacy startpart features to the latest template.
Meta data verification
Translate parameters.
Check, create and rename parameters.
Relations functions
Import relations from a file i.e. for adding copyright information or volume calculations.
Check for failed relations for subsequent correction.
Replace out-dated relations by latest version.
Layer harmonization
Create, rename or delete any kind of layer.
Add, copy and move content – including rules, to and from layers.
Supporting Properties
Change accuracy type and value.
Harmonize units to your standard.
Update the 3D model setup options to reflect your guidelines.
Clean up 2D drawing
There are many reasons for harmonizing and cleaning up your 2D drawings. You may check for compliance issues like outdated drawing formats, unused drawing models, drawing program relations, or manually overwritten dimension values.
SMARTUpdate automates the time consuming and repetitive clean up in an unique way.
Drawing format
Drawing size and sheets.
Check for valid drawing tables and replace if necessary.
Drawing representation
Drawing setup options.
Layers and view dependencies.
Inconsistencies
Missing references.
Overwritten values.
Drawing content
Unused drawing models.
Dimensions and tolerances.
Drawing views.
Prepare models for MBD
When moving away from a 2D drawing based environment into a world of MBD and MBE, SMARTUpdate supports your process of making existing data ready for this new approach.
PMI Organisation
Create, rename or reorder 'Combined States' based on your template model to organize PMI.
Apply 'Appearance States', 'Orientations' and 'Layer States' to fine-tune the structural organization.
Add and control annotations within the 'Combined States' for standardization.
Visibility control
Create rule-based layers to drive visibility of items.
Compose 'Layer States' to provide dedicated visibility states of your model.
Representation control
Apply 'Model Setup Options' to control and harmonize the look and feel of annotations.
Check and apply tolerance standards and tolerance tables.
Set Windchill Gate Keeping
Keeping low quality CAD data out of WIndchill Commonspace or at least preventing it from being finally released to production is an increasing requirement that companies have today.
SMARTUpdate provides an unique mechanism to allow Windchill to decide how to handle the data.
Defining relevant criteria
Compose your individual quality criteria scenario.
Check and Update models and drawing according to the criteria.
Applying quality status to model
Tie the check results to the model or drawing as a protected parameter.
Use the protected parameter value in Windchill for gate keeping.
Data Mining & Analysis
For large amounts of models, you need to find out which rules are most suitable. Analyze them first and take decisions after a global review.

Data collection
Run data collection on objects in local or network folders as well as in Windchill Workspace or Common Space.
Customize the collected data set individually.
External results database
Save all collected data in XML format or in a SQL database for independent analysis.
Monitor the quality level of your CAD objects on a regular basis by analyzing the collected data.
Query the data from outside Creo or Windchill.
Request Demo Version
Have we aroused your interest?
Then you are welcome to request a demo version from us here.
Technical details
Find out about the supported Creo® versions
in our product calendar.
Even more effective in combination