Power Up Your Electrode Design SMARTElectrode
Automated design of sinking electrodes
Maintain and extend customer-specific templates
Extensive evaluation functions
Interfaces to EDM programming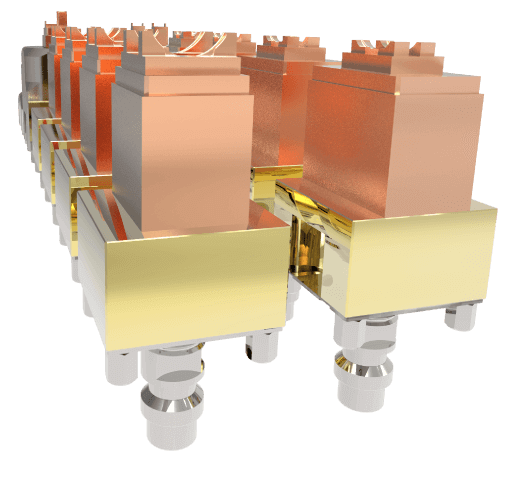 Benefits for your company
Create sinking electrodes in a parametric world!
SMARTElectrode is an add-on for Creo Parametric and complements the CAD software with functions for electrode design that enable more efficient and error-free work. Due to the complete integration and the clearly arranged dialogs, fast learning and fluent processing of the jobs is a breeze.
The provided functions support the user in all necessary steps from design, detailing, drawing creation, manufacturing to programming of sinking electrodes. Extensive evaluation functions prevent errors and help to implement changes quickly.
The various options for adapting the templates and expanding the library allow seamless integration into your working environment.
Interfaces for the drawing-free transfer of manufacturing information (PMI) to downstream processes such as CAM, CAQ and EDM machines complete the functionality.
Reliable

Validation functions like interference check or calculation of effective burn-area help to improve the quality and avoid errors.

Integrated

The built-in interfaces simplify data exchange with EDM machines and with software modules for CAM and CAQ.

Step-By-Step

Thanks to the controllable dependency between workpiece and electrodes, you can efficiently carry out design changes and quickly update drawings and manufacturing data.

Intuitive

The clear arrangement of commands and an intuitive workflow will help to complete design tasks quickly and make it easy to use the software.
Videos
Here you will find a selection of current videos that will
bring SMARTElectrode closer to you.
Select eroding areas
A wide range of selection filters makes it easier to define the areas to be manufactured:
Solid surfaces
Shape-based selection filters (Flexible Modeling Extension)
Tool tip
Surface color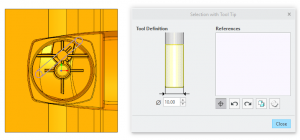 Extract and extend geometry
The selected areas can be extracted using an intuitive dialog as surface or solid geometry.
The geometry can be extended linearly, tangentially or with a draft angle.


Assign blanks and holders
SMARTElectrode selects the right blank from an expandable library and automatically adds an electrode holder if necessary.
In addition, templates for the EDM technology can be defined depending on the EDM machine, orbit or use case.
The default values for undersize/burngap, quantity, priority and target quality are assigned automatically or by the user.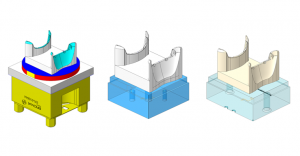 Check electrodes
SMARTElectrode offers a variety of analysis tools to validate the electrodes. This includes interference check, calculation of effective burn-area and burn gaps as well as software notifications if the electrode model is incomplete or the geometry is outdated.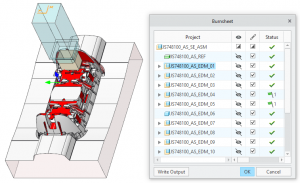 Manage electrodes
Electrodes can easily be reused within the assembly or from another assembly. The electrodes can be reassembled in the original or as a copy.
Unnecessary redesigns of existing electrodes are avoided by redefining or deleting features.
Modified models are again completely associative to the reference part. In order to protect a CAD model from undesired changes, it is also possible to control the dependency of the geometry via SMARTElectrode.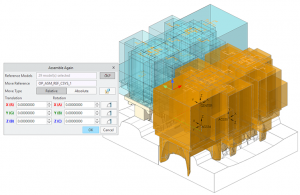 Create documentation automatedly
The app automatically creates and updates all necessary views and simplified representations for automatic shop floor documentation. Customizable drawing templates are available for bill of material, workpiece drawing, part drawing and position drawing of the electrode.
All required parameters and dimensions can be displayed or created when created using predefined rules in the configuration.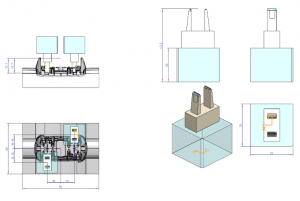 Transfer and export data
With SMARTElectrode, the data of the electrode assembly can be exported in prepared and adaptable formats. These include templates for text, HTML or XML formats as well as the export of 3D data as STEP or IGES in order to use the electrodes in downstream CAM or CAQ applications.
The NC programming of electrodes in Creo NC can also be accelerated by using special manufacturing templates.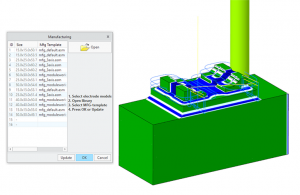 Interfaces to EDM machines
Automatic data transfer to EDM machines avoids error-prone entries and costly tool maintenance.
These interfaces are an optional extra license for SMARTElectrode and are available for the following manufacturers:
Additional manufacturer: Other manufacturer can be integrated on request.
Technical details
Find out about the supported Creo® versions
in our product calendar.
More information?
Request Demo Version
Have we aroused your interest?
Then you are welcome to request a demo version from us here.
Success stories of
our customers
By using SMARTElectrode, the creation of electrodes is easy and efficient.

Another advantage when creating electrodes but also for administration and ordering is the automatic recognition of raw material and the placement of electrodes.

By using SMARTElectrode, it is also possible to mark the position of the electrodes on the drawing. This ensures error-free working.

D. Kräutl, Electrode Designer at ELMET
Even more effective in combination