Connects what Belongs Together Intelligent Fastener Extension
Easy handling of screws and dowel pins
Define the sizes and holes in an intuitive dialog
Assemble fasteners together with all holes
Integration and use of existing fasteners
Easy redefinition and removal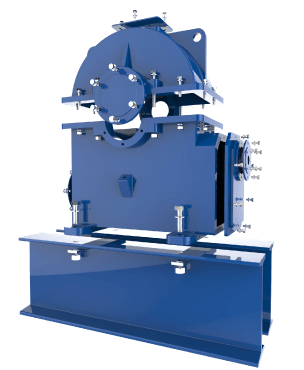 Benefits for your company
Intelligent Fastener Extension (IFX) provides quick and easy access to a screw and dowel pin library. The fasteners are created and installed together with all necessary boreholes.
Fast and uniform access to fasteners
Extensive fastener library
Manage fasteners from catalogs
Uniform

Increase standardization in your company by using uniform standard parts libraries. For visualization, you can simply define your favorites.

Timesaving

In the IFX dialog, select the desired screw together with all washers and nuts and define the corresponding holes. IFX does the rest for you.

Flexible

After installation, you can quickly and easily redefine the screw/pin connection. This increases the flexibility to react quickly to changes.

Clear

Your existing connections are displayed with all necessary information in a dialog. From there you can easily edit the connections.
Videos
Here you will find a selection of current videos that will
bring IFX closer to you.
Assemble Screw Fastener
Simply select the position references for screw and nut/thread. Then define type and diameter, washers and bores. IFX assemble the parts together with every required hole.
1. Select Reference

2. Define Screw Fastener

3. Assemble Models Together With Holes

Assemble Dowel Pin Fastener
Simply select the position references for the dowel pin. Then define type, diameter and bores. IFX assemble the parts together with all the required holes.
1. Select Reference

2. Define dowel pin fastener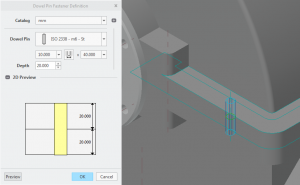 3. Assemble dowel pin together with all holes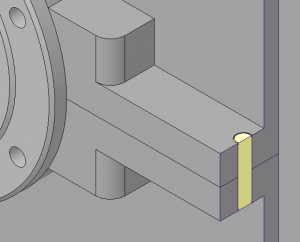 Redefine Fastener
Existing fasteners can be changed again with a few clicks. The parts are replaced and the holes adjusted.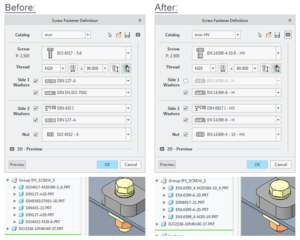 Check Screw Fasteners
All existing screw fasteners can be displayed in a dialog. The fastener lengths are checked and can be changed directly.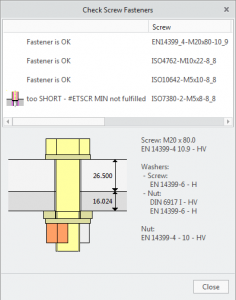 Create Instances
All parts of the library can be created using the instance creator. It is then easy to integrate the parts into the file management system.
Accessing Windchill files
IFX offers full Windchill support. All Creo® models of fasteners, catalog files and fastener data files can be stored in Windchill.
Customize Library
The library can be easily configured and adapted to your requirements. Add new catalogues and adapt the assortment of fasteners to your needs.
Manage Fasteners In Catalogs
Group logically related fasteners into new catalogs. This way you can prevent, for example, that an A2 screw is accidentally screwed together with a steel nut.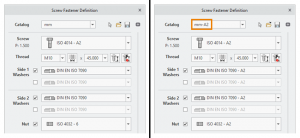 Abrufbare Normteile in IFX
Available Standard Parts in IFX:
ISO®
Holo-Krome®
HELICOIL®
Nord-Lock-Group
PennEngineering®
DIN
Request Demo Version
Have we aroused your interest?
Then you are welcome to request a demo version from us here.
Technical details
Find out about the supported Creo® versions
in our product calendar.
More information?
Success stories of
our customers
We use IFX in silicone mold design and demolding technology, mainly in combination with skeletons, so hundreds of screws in our cold channels and the rest of the mold can be precisely and quickly set, adapted and edited.

IFX offers many possibilities to implement different design strategies without reconfiguring the tool. Even all our special fits and special exemptions for screws, dowel pins, fitting bushings, lifting eyes, connections,… etc. were also integrated into IFX.

IFX offers us many possibilities to integrate new elements. No matter if they were drawn in Creo or if they are imported parts. All libraries are adaptable.

The combination of IFX and the drilling tables from Creo made all dimensions or cuts through holes redundant. All this information is available in the automatically generated drilling note and only needs to be shown in the drawing derivation, that's it. This applies to screw clearances, threads and fits. Of course these notes and information are also available and visible in 3D. Thus the effort in the drawing derivation was reduced considerably.

A. Kurzmann, Administrator CAD/PLM // Designer at ELMET

I like the tool (IFX) very much and for the first time after working with Creo for about 20 years, I really enjoy adding screws, pins and studs 😉 The tool is a significant relief and, due to its individual configurability it is very easy to adapt to our own standards, too. This makes it a very useful tool for us and improves our design process and our documentation.

Dipl.-Ing. (FH) Stefan Adolph, Produktionskontrolle PK/Konstruktion // Fraunhofer-Institut für Physikalische Messtechnik IPM
Even more effective in combination