Always Be on the Bright Side SMARTColor
Color-Coding integrated in Creo Parametric
Applicable for Model-Based-Definition
Intelligent rule set for Color Application
Associative legend symbols
Reliable transfer of product and manufacturing information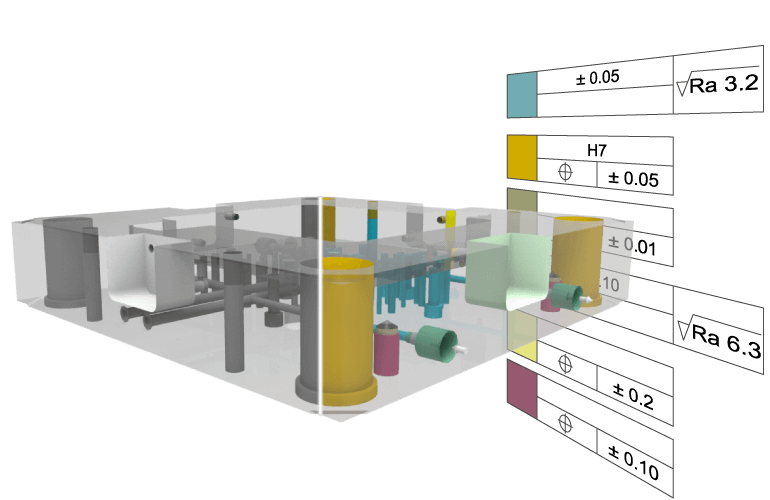 Benefits for your company
Adding product and manufacturing information (PMI) in the traditional way is still a complicated and error-prone process. SMARTColor supports and accelerates the adding of colors to your 3D model. With just one click, predefined color definitions are applied to those model surfaces that are detected by sophisticated rule-sets.
Using this approach, PMI will be provided in a machine-readable manner to downstream processes.
SMARTColor will help you to make a big step forward in the direction of Model-Based-Definition by saving time through automated color application.
Simple

Use predefined color codes that machines can read reliably and can still be easily understood by humans.

Reliable

Neutral interfaces (e.g. STEP) transport the color information reliably and quickly to the subsequent processes.

Timesaving

Let the predefined rules do the work for you. Sophisticated rule-sets can color your model within seconds and you save a huge amount of time.

Integrated

You can profit from the integration in Expert Moldbase Extension in order to reuse the surface information already prepared there for the rule-based color assignment.
Videos
Here you will find a selection of current videos that will
bring SMARTColor closer to you.
Understand intuitive Workflow
The software runs in part and assembly mode and brings its own ribbon entry along.


1. Set up color definitions and rules
Before using the application color definitions and rule sets need to be prepared.
2. Apply colors automatically by rules
Run a set of rules and watch how the model gets colored automatically.
3. Complete color application manually
If the predefined rules do not cover all intended situations, you may easily add the intelligent color definitions manually.
4. Export or publish model for downstream use
When using the STEP interface the current combined state is exported
Apply colors automatically and manually
Applying colors to the 3D mode can be carried out in two different ways. 'Automatic' by running a set of rules or 'Manual' by selecting surfaces from the geometry interactivley.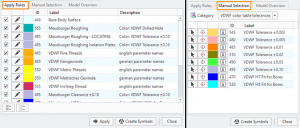 Automatic application
'Apply' a complete rule-set automatically with a single click.
Colors are reliably applied within seconds.
Manual Selection
The 'Manual selection' adds colors via interactive user selection.
This interactive application remains even after re-applying the rules.
Use information dialog and color query
For analysis purpose the software provides an overview of already applied color codes and corresponding technology data. Additionally a query tool helps to get this information directly from the graphics screen.
Color Overview
Tree like summary of all applied color definitions.
Distinction between manually and automatically applied colors.
Reset applied colors to master appearance.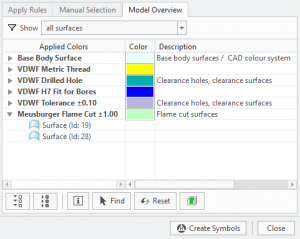 Color query
Obtain the underlaying color information for a single colored face in the model.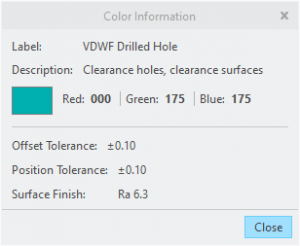 Utilize multiple appearance states
SMARTColor makes use of the Creo functionality to support multiple appearance states within a single model. A color definition can be linked to a specific 'Appearance State' within a 'Combined State' of the 3D model. This can be used in different strategies using colors.
Context tree
A context is a container that a unique rule-set and color category is assigned to.
A 'Combined State' name (including an 'Appearance State') is directly linked to a context.

Combined and Appearance States
Creo Parametric 'Combined States' contain multiple settings like Orientation or Appearance.
Use the Creo Parametric 'Combined State' tabs to toggle between different appearances.
Create legend symbols automatically
SMARTColor allows you to automatically display a legend of the colors used in the current state. These symbols are placed flat-to-screeen in the Creo®  graphics window and are associatively linked to the colored surfaces.



Associative highlighting
Flat-to-screen symbols as a legend to represent each used color.
Associative link to corresponding geometry for highlighting and selection.
Associativity is still maintained in CreoView.

Individual customization
Use any custom Creo®  symbol as a legend symbol.
Symbol height and position are controlled by configuration options.
Publish to different formats
Exporting or publishing is necessary in most cases to use the information in downstream software tools like NC or CMM programs. SMARTColor offers the following formats that all have specific characteristics.
STEP Export
Very reliable for color information and already available for many years.
The STEP format itself can currently only keep a single appearance state.
Export the colors of the active 'Appearance State' to STEP.

Publishing to CreoView
CreoView Express is a free viewing tool to be used in downstream functions.
'Appearance States' and even the associativity of the legend symbols are maintained.
Export to JT
You will need a special Creo license to make use of this export type.
Native Creo data usage
Re-using the native Creo data provides all color information even without SMARTColor running.
Direct interfaces (i.e. to Hypermill) only read color information from the 'Default All' state.
Administrate color codes and rules
The software provides a single administration dialog that allows to set up the context structure, color definitions and rules easily.



Context structure
Build up your individual context tree with as many branches as you like for different scenarios.
The context allows to use different rule sets and colors in different 'Combined States'.

Color definition
Define your own colors as object entities.
Add process data like tolerance values or surface finish information (PMI).
Include a Creo symbol for later use within the legend.
Rule-set composition
Define unlimited individual rules using a variety of characteristics, criteria and container.
Combine any rule entities to rule-sets that are finally displayed in the user dialog.
Flexible context and object linking
Assign rule-set and color category objects to the active context.
Inherit the assignments throughout the context branches.
Use compatibility to EMX
SMARTColor will take advantage of other used B&W software products like Expert Moldbase (EMX).
Expert Moldbase integration
Any geometry created by EMX (i.e. holes or cut-outs) are bringing parameters along that SMARTColor will direktly make use of.
EMX templates are prepared for a later use of SMARTColor.
A specific EMX configuration is provided within SMARTColor.
Request Demo Version
Have we aroused your interest?
Then you are welcome to request a demo version from us here.
Technical details
Find out about the supported Creo® versions
in our product calendar.
Even more effective in combination