Individual Software Solutions from B&W
In addition to portfolio products, B&W also develops and implements specific, case-dependent software solutions. This ranges from adaptations of existing products to applications developed specifically for the user.

Customization
All B&W applications are designed in such a way that they can be easily extended with additional functionalities. Thus, each application can be extended exactly and precisely according to your needs. Adaptations can concern e.g. the data output, commands or also interfaces and own libraries.
Software Development
With more than 20 years of experience in developing add-on applications for Creo Parametric, B&W Software is a partner that understands your way of working and your requirements.
The development of customized software is only ever possible with a precisely planned solution strategy. Even during the conceptual design phase, important framework conditions must be taken into account, which require close cooperation. Consulting, analysis and implementation go hand in hand here.
After the programming and subsequent implementation of the automation solution, we carry out – in order to ensure a successful use of the software – training, updates or further developments on the targeted process flow, if desired.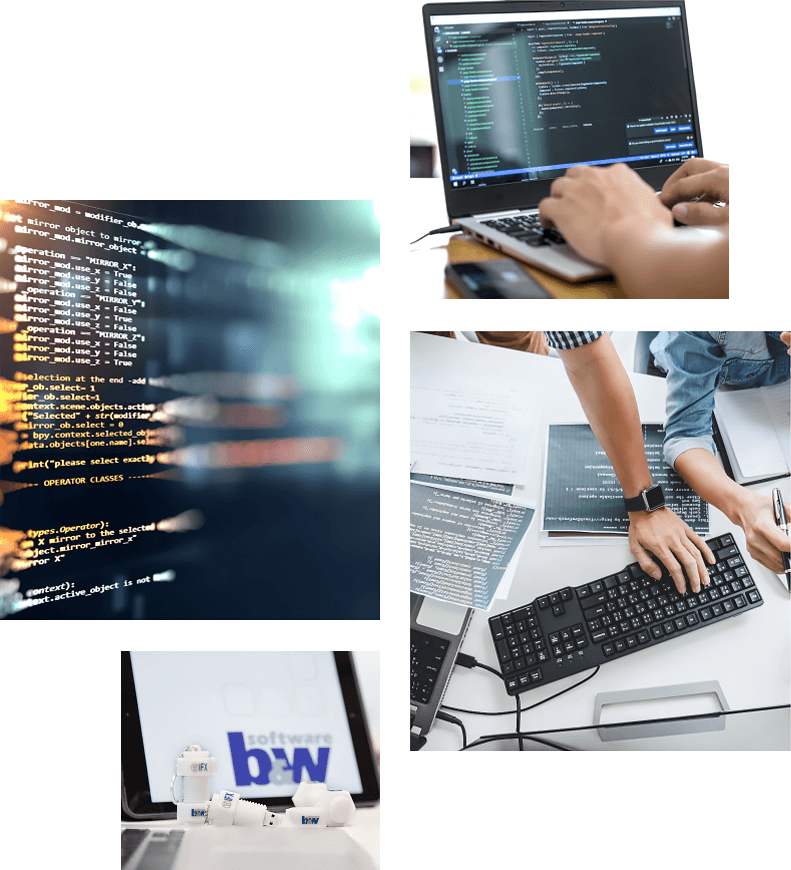 Customers
Here you can see a small sample of our customer projects over the last 24 years.
TE Connectivity Germany GmbH
SMS Group GmbH
Schaeffler Technologies AG & Co. KG
Siemens AG
MAN Energy Solutions SE
Festo SE & Co. KG
Procter & Gamble Service GmbH
Leica Camera AG
Volkswagen AG
Carl Zeiss AG
PHOENIX CONTACT GmbH & Co. KG DZ
Bosch Rexroth AG
Dieffenbacher Holding GmbH & Co. KG
Amazon.com, Inc.
Hyundai motor company
Norma Group SE
Richemont SA
KHS GmbH
Projects
What convinces more than a satisfied customer? Take a look at some of our customer projects here.
MAN Energy Solutions – Add metadata directly to the 3D model

MAN Energy Solutions is one of the world's leading suppliers of large diesel and gas engines and turbomachines. MAN Energy Solutions was looking for a developer for the attribute manager in Creo to maintain metadata directly on the CAD model.

Read Success Story

MAN Energy Solutions – still making complex models configurable

How do you manage to provide an overall model with 6000-8000
different Creo models in a simplified manner?

Read Success Story

Sys2PEP – System models as a tool for the digital product development process

A research project funded by the Central Innovation Programme for SMEs of the Federal Ministry for Economic Affairs and Energy. Conducted by B&W Software GmbH, the Institute for Product Engineering at the University of Duisburg-Essen (IPE) and SMS group GmbH.

Read Success Story