Displaying tolerances and fits in IFX hole notes
There is a possibility to replace values from the note with the corresponding dimension.
This allows to display and output tolerances and fits.
To display the tolerances proceed as follows.
Set SCREW_REPLACE_PARAM_BY_DIM_IN_NOTE respectively PIN_REPLACE_PARAM_BY_DIM_IN_NOTE to Yes.
Select which dimensions should be replaced.
Add the corresponding dimension to the CALLOUT_FORMAT of your *.hol file as described in the help text.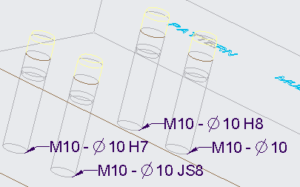 The display in the note follows the settings of Creo.