Notifications in burnsheet
The display and editing of notifications in the burn list has been further improved in SMARTElectrode 12.0.1.3. Available messages are:
Info – Electrode is a copy of
Info – Electrode is an import from
Info – Electrode is mirrored from
Info – Electrode is a merge of
Info – Electrode is a split of
Info – Electrode base is not centered on contour
Warning – Cutout is outdated
Warning – Electrode Csys not found
Warning – Coordinate system on electrode tip updated (for electrodes from SE 7.0)
Error – Interference with workpiece found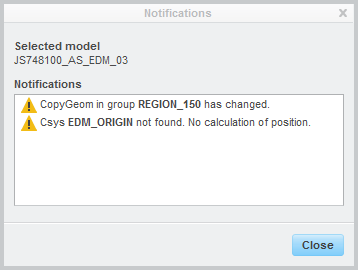 The original post for the notifications can be found here.
When the icon is selected, all other models and the burn list are now automatically hidden. This provides a better overview. When selecting one of the notifications, the corresponding reference is highlighted.
Correction of problems
Outdated cutouts and displaced electrode base can be opened and updated directly by activating (double-clicking) the message. In the case of a cutout, the dialog for the change is opened.
The following video shows the improvements in detail: