New Version of Creo Intelligent Fastener Extension 7.0.3.0 released
Select hole chart for IFX holes
Advantages
Use different hole charts for different fastener types.
Show different hole notes.
Control the counterbore diameter with CBOREDIAM and CSINKDIAM.
Details / Usage
Use the new keyword THREAD_NAME in your fastener data file to preselect a hole chart.
Select hole chart for IFX holes if more then one is found.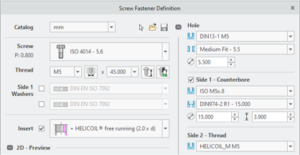 New options to control clearance hole behavior
Advantages
Use the same behavior than Creo Parametric.
Allow to disable limits for the hole diameter.
Details / Usage
Control hole diameter behavior in the Screw Fastener Definition dialog box inside the Hole layout.
Control the limits for the hole and set the diameter to read only.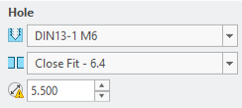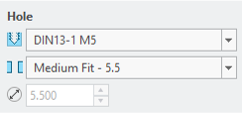 Find more about Whats's new in IFX here(PDF, 542.2 kB) or refer to the complete change log.