SMARTElectrode 10.0 M040 released

A new release SMARTElectrode 10.0 M040 is now available. Current changes:
[RM-5578] Notifications in burnsheet UI
Notifications show additional information and warnings for electrodes. Click on notification icon (green flag + number) to open list with detailed messages. Currently available messages/warnings:
Info – Electrode copied from
Info – Electrode imported from
Info – Mirror solid from
Info – Merge solid from
Info – Split from
Info – Base not centered
Warning – CopyGeom changed
Warning – EDM csys not found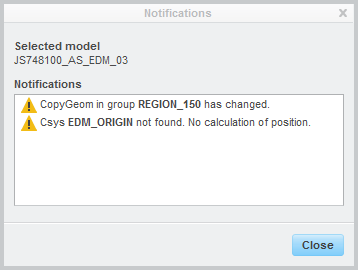 [RM-6212] Default holder offset
Offset of holder be pre-defined in dat-file of electrode. It's mandatory to set a default holder in column 'HOLDER'. Use additional columns to define offset:
HOLDER_OFF_A
HOLDER_OFF_B
HOLDER_OFF_C
HOLDER_OFF_X
HOLDER_OFF_Y
HOLDER_OFF_Z
[RM-5883] Rename electrodes
Added new command 'Rename' to context menu in modeltree. Rename takes care of models, drawings, layers and simpreps. Note: manufacturing, workpiece and manufacturing drawing won't be renamed.

[RM-6436] Specify holder color in color format
Added new feature type "SE_HOLDER_MODEL" which can be used in color format file to control color of holder models.
Example to assign a green color to holders:
FEATURE   SE_HOLDER_MODEL   100,180,005   –

[RM-6426] Set reused electrodes independent
If electrodes are copied from another assembly, copy-geoms and cutout features will be set to NO UPDATE to avoid unintended regeneration.
Note: this functionality is available since Creo 3.
[RM-6120] Maintain table cell format
Table cell format from templates asm_bom.tbl, asm_wp.tbl and asm_edm.tbl will be maintained during update of drawing tables. This applies to text font, thickness and justification. Text height will be set to default text height.
[RM-6416] Assign core material to reference part
Assign core material to reference part if selected merge, inheritance or copy-geom.
See here for a list of all changes.