New function available in SMARTXHatch
 SMARTXHatch 13.0
There are some enhancements in  the new SMARTXHatch Version:
Creo 9.0 support
Added pattern hatching support
Pattern hatching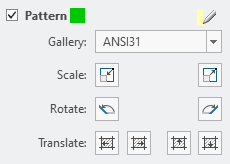 For a manual or rulebased modification of your hatching, you may now use the new function to select a standard pattern from a large pre-defined library. Tweak the setting to your satisfaction by changing the spacing and angle of the selected hatching.
Here you can find again more detailed information about the new version and its latest updates
SMARTXHatch 13.0
You can find the complete changelog here.